---
Wednesday, June 30 @ 8:00 p.m. – FOREVER
"Willy Wonka & the Chocolate Factory" 50th Anniversary Celebration | LIVESTREAM @ FSC
Led by Joe Clark, we had a ball putting this together… Performed 50 years later on the night it premiered in theaters, enjoy this show celebrating the music and magic that is Willy Wonka!!
The stream is up on YouTube for life! Hope you can check it out!
Live Stream/YouTube link:
https://youtu.be/Co7ztiA_VnU
---
Sunday, July 25 @ 3:00 p.m.
miss remember @ Martyrs' – Fox Fest Benefit Concert for Tim Fox
We hope you'll consider coming to support our friend and fellow musician, Tim Fox. If you can't make the show, a donation to the GoFundMe (link below) is greatly appreciated… him and his family need our help through this unexpected time, please show up for these folks if you can – every little bit helps — thanks!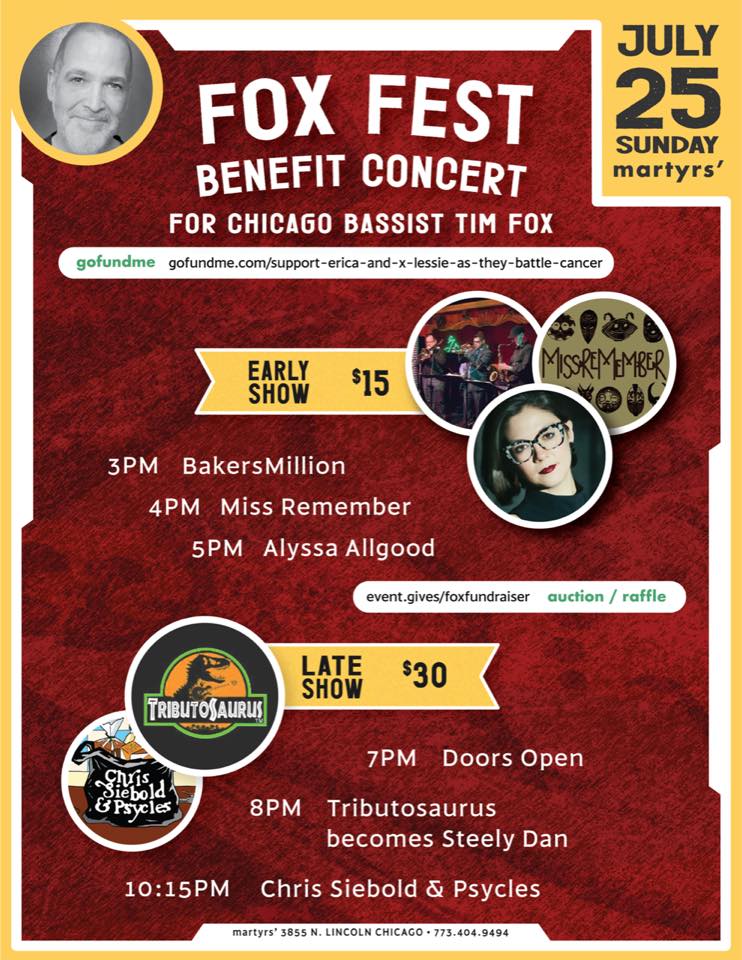 3:00 BakersMillion + 4:00 miss remember + 5:00 Alyssa Allgood
GoFundMe link: https://www.gofundme.com/f/support-erica-and-x-lessie-as-they-battle-cancer
$15 cover charge – ticket link here:
http://martyrslive.com/
Martyrs' — 3855 N. Lincoln Ave. Chicago, IL
---
Sunday, August 1 @ 12:00 – 1:30 p.m.
Leslie Beukelman Trio @ Festa Italiana (Naperville)
Thrilled to fill the air with the sweet sounds of jazz!
Food, music, entertainment, all the things!
Naper Settlement — 523 S. Webster Street, Naperville, IL
https://www.napersettlement.org/
Admission before 5 pm is free; for later entry, buy a ticket here: https://www.eventbrite.com/e/festa-italiana-naperville-tickets-158031375097
---
Sunday, August 8 @ 6:30 – 8:00 p.m.
Geordie Kelly Group @ The Jazz Cruise
Spend 90 minutes cruising down the Chicago River sipping a cocktail, taking in the city from the river, while listening to live jazz!
$50 per person / children 6 and under are free
Chicago Line Cruises — 465 N. McClurg Court, Chicago, Illinois 60611
Ticket link:
https://www.chicagoline.com/chicago-boat-cruises/jazz-cocktail-cruise/
---
Wednesday, August 11 @ 7:00 – 8:30 p.m.
Chicago Skyliners Big Band @ Vietnam Veteran's Memorial Park (Melrose Park, IL)
Keeping the big band sounds alive! Bring a chair, a blanket, and a few pals for a summer concert in the park!
FREE!
Vietnam Veterans Memorial Park — 1800 Riverwoods Dr., Melrose Park, IL
---
Friday, September 3 @ 7:00 – 11:30 p.m.
Up and At Them : A Benefit to End MS @ the Cubby Bear (Chicago)
I am thrilled to be hosting this event thrown (for it's 7th year!!) by dear friend and musician, Johnny Perona. The evening will feature music from THE STEEPWATER BAND, Jaik Willis, Davenport Ed and Furbaby & The Tight Spaces.
There will be live music, incredible raffle prizes, and a tremendous feeling of community. The world is healing! Let's celebrate by raising money to eradicate Multiple Sclerosis! All money raised goes to the National MS Society, Greater Illinois Chapter.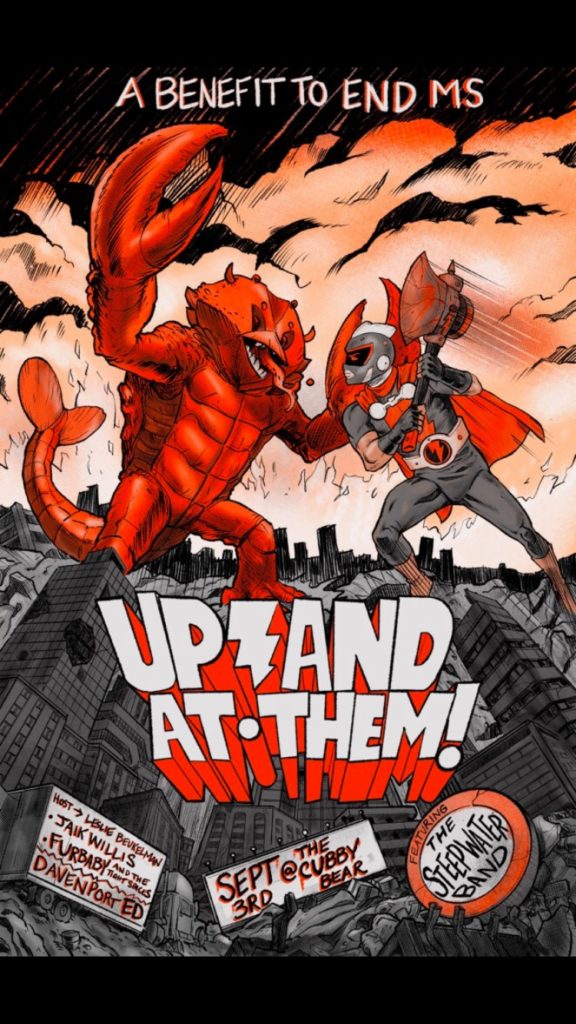 Get your tickets HERE!
Cubby Bear — 1059 W. Addison, Chicago, IL
---
Saturday, September 25 @ 2:00 – 3:00 p.m.
The Oh Yeahs @ Andersonville Homecoming (Chicago)
We are BACK!! Looking forward to playing a set at the return of the Andersonville Summer Festival!
More info coming soon HERE!
Andersonville Neighborhood in Chicago, IL